Pre-College Programs, 2022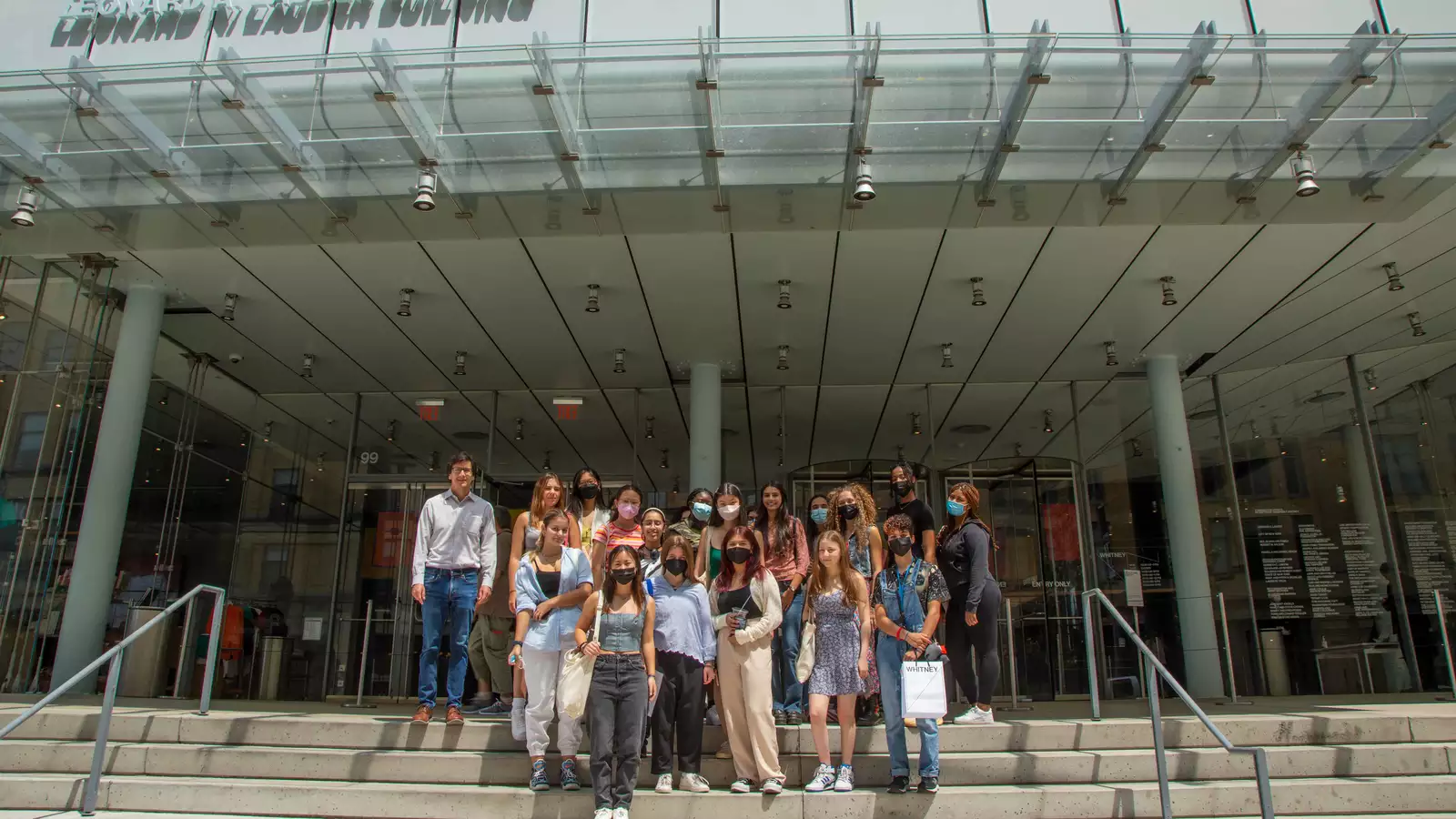 Most high school students can't wait for a summer of no school, but Sabie Cipriani was eager for the season to start so she could get back to class. Cipriani was one of 374 teens who took part in Barnard's 2022 Pre-College Programs (PCP) — a unique academic and cultural opportunity the College offers to young women in high school. Since 1985, the program has welcomed students from around the world to experience what Barnard and New York City have to offer. With programs that range from STEM to theatre to social justice, high school students spend the entire summer engaged in hands-on and personalized learning.
"Psychology is my intended major at college, and I felt studying it at a summer collegiate program would allow me to delve deeper into the subject, enhance my understanding, and provide a sense of what it would be like to study at a university level," said Cipriani, who was enrolled in PCP's Pre-Baccalaureate Program and earned a college credit while taking Abnormal Psychology with professor Michael G. Wheaton. "Given [that] Barnard is my dream school, what better way to be introduced to it than at a Barnard summer program?"
And this year was special for everyone involved, as the Pre-College Programs celebrated their 37th anniversary by returning in person after two years of online-only learning.
"Due to COVID, a lot of our students haven't left home for summer camp or pre-college programs, and this was the first time they've been able to interact with their peers in this capacity," said Aleschia Velasquez, executive director of Summer Session and Continuing Studies. "It was great to be able to provide a space for them to be together again and flex their social muscles."
Held from June 30 through August 13, this summer's offerings included the three-week Young Women's Leadership Summer Institute, where students work in small groups to design and execute a solution to a problem in areas such as gender inequality, politics, queer studies, or human rights; the seven-week Pre-Baccalaureate Program, a 3-credit course taught by a Barnard faculty member; and the Athena Summer Innovation Institute — in collaboration with the Athena Center for Leadership — where students work in teams to create a startup business, nonprofit, or advocacy campaign during a three-week boot camp. 
"You deepen your knowledge in a subject of your choice, study with some of the best professors in the world, meet interesting and impressive people, all while at the prettiest campus in the most iconic city in the world," said Cipriani, who lives in Dubai.
Isabella Perna, who also participated in the program this summer, explained that while PCP had a lot to offer academically, some of the best things about it occurred outside of the classroom. "One highlight from the program was being able to make friends from all over the country and the world," said Perna. "As someone who grew up in New York, I'm used to diversity and meeting new people, but it was really nice being able to meet girls from London, Italy, Japan, and California. We became long-term friends."
Beyond PCP's roster of academic rigor, students were able to build bonds with one another through the program's exciting schedule of off-campus activities that allowed students to explore the City. This summer, the program included Broadway excursions to see Moulin Rouge, Dear Evan Hansen, and Phantom of the Opera, as well as trips to Museum Mile.
"These activities help us further connect the classroom and NYC as Barnard's home," said Velasquez. "Our program is designed to speak to the four pillars of our institution, which include being a historically women's college, [celebrating] our Columbia connection, [expanding on our] stellar liberal arts education, and, of course, [capitalizing on our] place in NYC."
Learn more about Barnard's Pre-College Programs here.