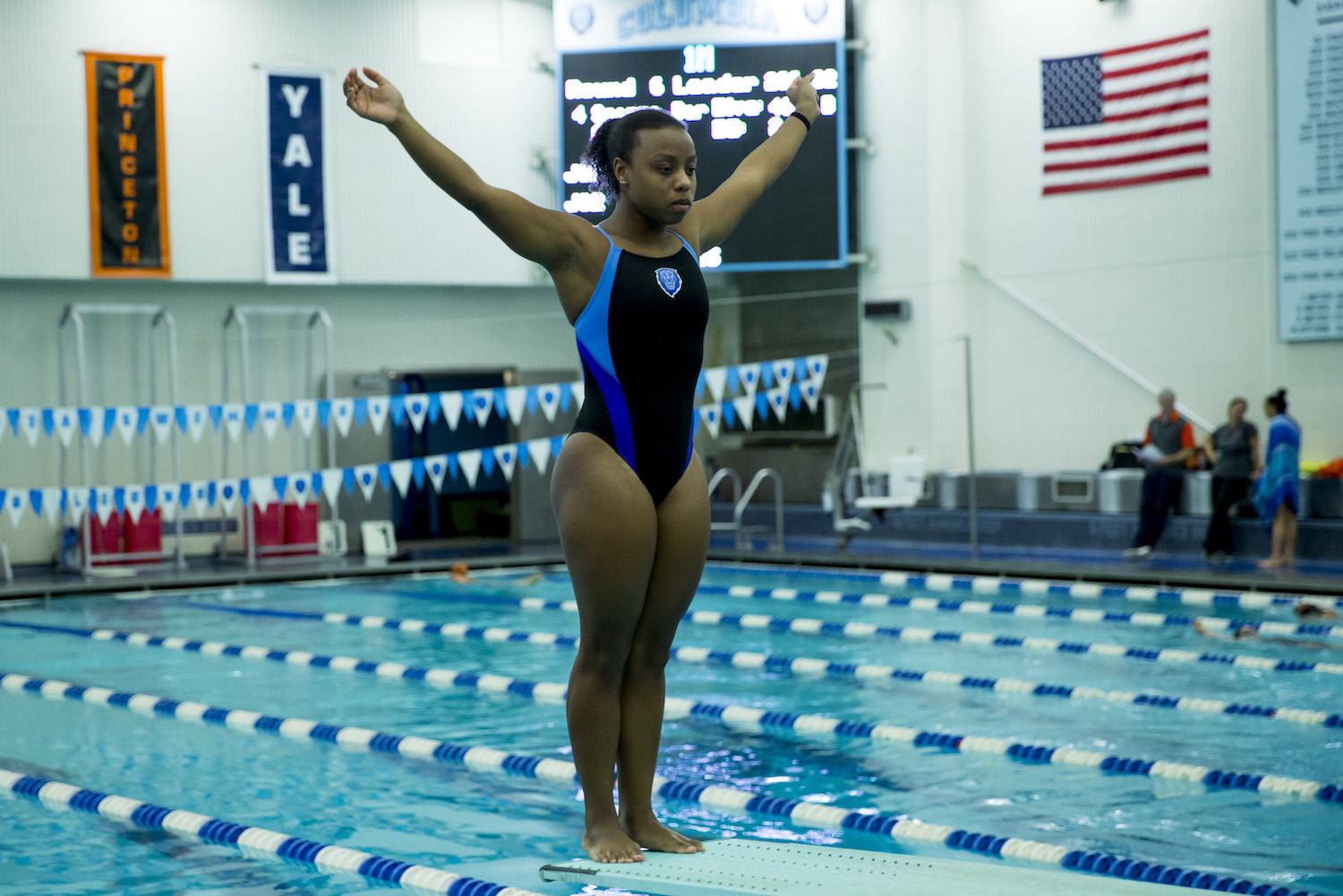 One of the many things students value about their Barnard experience is the opportunity to compete in NCAA Division I Athletics through the Columbia/Barnard Athletic Consortium. Barnard is the only women's college—and one of only a few liberal arts colleges—to offer Division I athletics. This is the next installment in our scholar-athlete series. (Our most recent profile was of rowers Elizabeth Neuhauser '22 & Maya Hartleben '19.)
We interviewed Seanna Barrett '19, a key diver on the Columbia Women's Swimming/Diving team, last spring. Now in her senior year, she provides an update on her newfound interest in SoulCycle and the confidence she has built after 11 years of diving, four of them at Barnard. From West Hempstead, NY, Barrett is majoring in psychology and plans to pursue a career as a nurse practitioner after graduation.
Why did you choose Barnard?
I grew up on Long Island, and throughout high school, I practiced diving at Columbia with the recently retired diving coach Gordon Spencer. Due to NCAA rules, he was not allowed to talk to me about college until my junior year of high school, but throughout our time he raved about the strong sense of community and support over at Barnard. 
When I began looking at colleges and took a tour of Barnard, I knew this was the place to be. I remember being blown away by how beautiful and modern the Diana Center was, the cheerful atmosphere, the beautiful blossoms, and the fact that it was all located in one of the greatest cities in the world. I loved how Barnard emphasized the importance of women supporting other women, creating an environment where students can take advantage of the many opportunities provided, and teaching women to be bold and unafraid members of society.
What are you studying and why?
I am majoring in psychology and plan to pursue a career as a nurse practitioner. I have always been interested in how and why humans do the things we do. It is fascinating to think that even with today's advanced technology, there are so many questions about the brain that have yet to be answered. Last year, I took Professor E'mett McCaskill's abnormal psychology class, which sparked my interest in the different psychological disorders affecting millions. I hope to be a part of the system to help all people live fulfilling lives.
Aside from diving and academics, what else do you like to do for fun?
When I'm not at the pool or in the library, my teammates and I like spending time together, sometimes taking the occasional trip to Trader Joe's or Whole Foods. Since my days of diving are dwindling down, I have been looking into other forms of exercise to pursue after graduation, and recently I have gotten into SoulCycle. One of my good friends in my sorority introduced me to it, and I thoroughly enjoy how physically demanding all the classes are, along with the supportive and energetic environment.
With regard to diving, what are you most proud of and why?
I'm most proud of my increasing confidence in my dives and performance at meets. I had felt frustrated as a first-year student because I suffered from injuries and felt that I had not performed at my best. Today, I have found my groove, I relax during competitions, and do what I know how to do. I have been diving for 11 years and I am so grateful to have had the opportunity to finish my career representing such a prestigious institution.