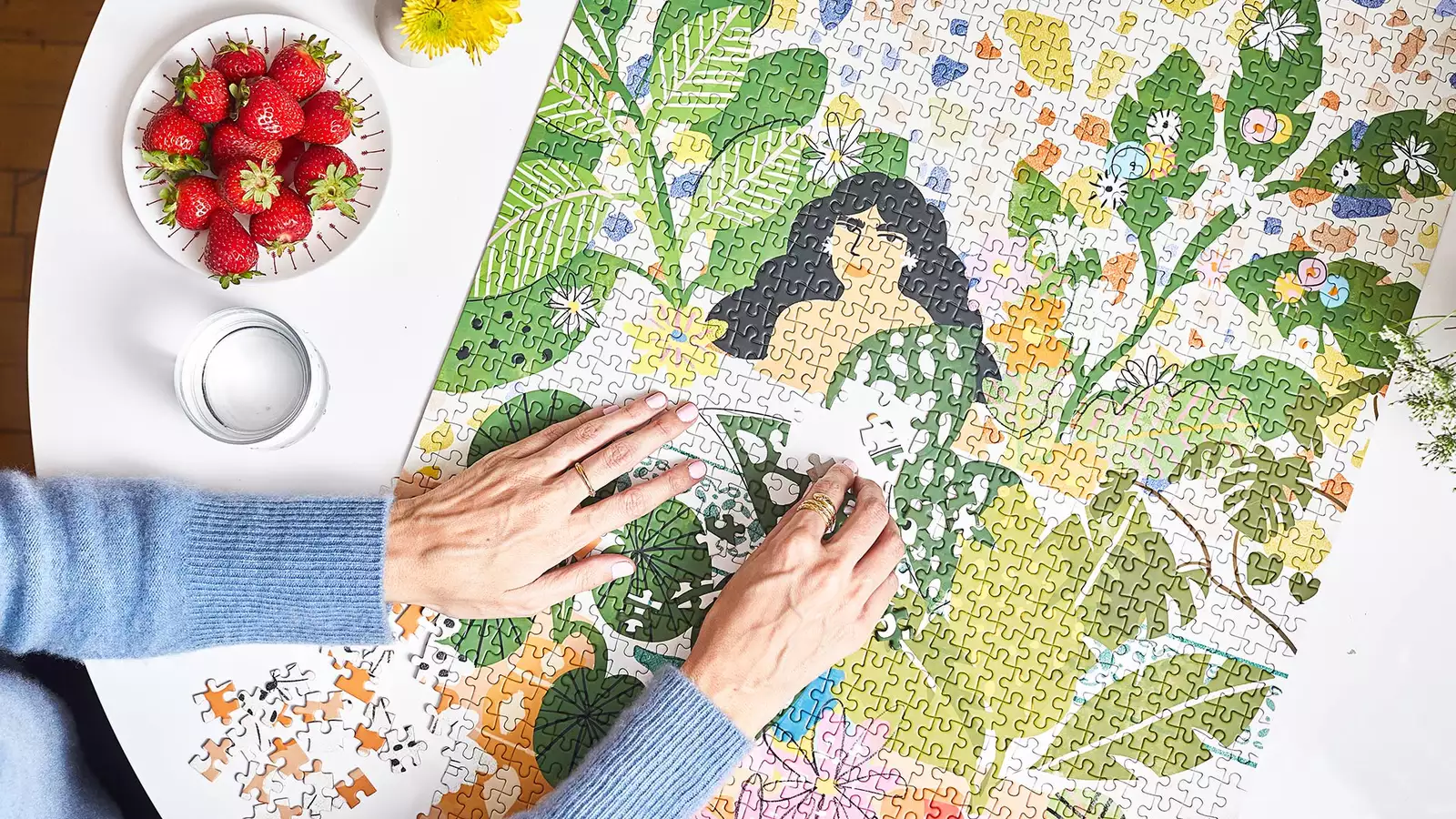 When Shark Tank viewers this past April watched New Yorker Kaylin Marcotte '12 pitch her mission-driven Jiggy Puzzles business, mega-entrepreneur Mark Cuban not only made an offer of $500,000, he also agreed to match her 2021 fundraising efforts of $50,000. (Watch Marcotte win the deal in the video below.) Securing that kind of national exposure and funding, just 16 months after launching the business, is a testament to Marcotte's tenacity and to her vision as a business leader committed to empowering women artists. One of the defining features of Jiggy is its women-led business model: Marcotte specifically commissions only women artists to illustrate the brand's puzzles and then produces them with an all-women staff. In addition, most of Jiggy's interns are Barnard students.
The first few pieces of the Jiggy Puzzles idea came to Marcotte when she was still a student at Barnard, studying political science and psychology and participating in Athena Center for Leadership programming, which she said provided her with "leadership skills of the real world." In 2014, while assembling 1,000-piece puzzles weekly to reduce her work stress as a marketing director at theSkimm, Marcotte decided to turn this pastime into a professional endeavor, becoming a full-time curator of beautiful puzzles that could double as decorative art.
With a mom who works in arts education and Barnard friends who later struggled to earn a living as visual artists, Marcotte had a front-row seat to the many challenges that women artists face — from selling their work to receiving credit for it. When family friends with whom she was visiting a museum one day couldn't name five female artists, Marcotte realized she could address some issues by launching a career that both educated the public and shared profits directly with artists. After frequenting art shows and scouring the internet to find women illustrators, Marcotte soon made her vision a reality.
"My experience at Barnard has definitely shaped how I built my team and structured Jiggy with our artists, so we only work with emerging female artists from around the world," said Marcotte. "I'm not sure where I would be had I not gone to Barnard. The confidence they instilled in me to go out on your own and try uncharted waters really gave me that resiliency to try it differently."
Since its launch, Jiggy has produced artful puzzles that speak to self-care, girls who reach for the stars, and more. This June, the company produced a puzzle set, from the artwork above, to commemorate Pride Month. To learn more from Marcotte, including how Barnard prepped her to pursue a dream career that gives her the opportunity to work with and uplift women illustrators, watch the main video above. And check out samples of Jiggy's art below, as well as images of Marcotte during her Barnard graduation.